---
NXIVM
NXIVM (/ˈnɛksiəm/ NEKS-ee-əm) is a self-described American multi-level marketing company based near Albany, New York, that offered personal and professional development seminars through its "Executive Success Programs". The company has been described as a cult and a pyramid scheme and has also been alleged to be a recruiting platform for a secret society (variously called "DOS" or "The Vow") in which women were branded and forced into sexual slavery.
In early 2018, NXIVM founder Keith Raniere and his associate, actress Allison Mack, were arrested and indicted on federal charges related to DOS, including sex trafficking. Others associated with NXIVM were also charged with federal crimes. As of April 2019, five people associated with NXIVM—Mack, NXIVM co-founder Nancy Salzman, Lauren Salzman, Seagram heiress Clare Bronfman, and bookkeeper Kathy Russell—had pleaded guilty to various charges. Raniere's federal trial began on May 7, 2019. On June 19, 2019, he was convicted of sex trafficking and racketeering.
---
---
---
---
---
A list of NXIVM affiliations, documented in court records.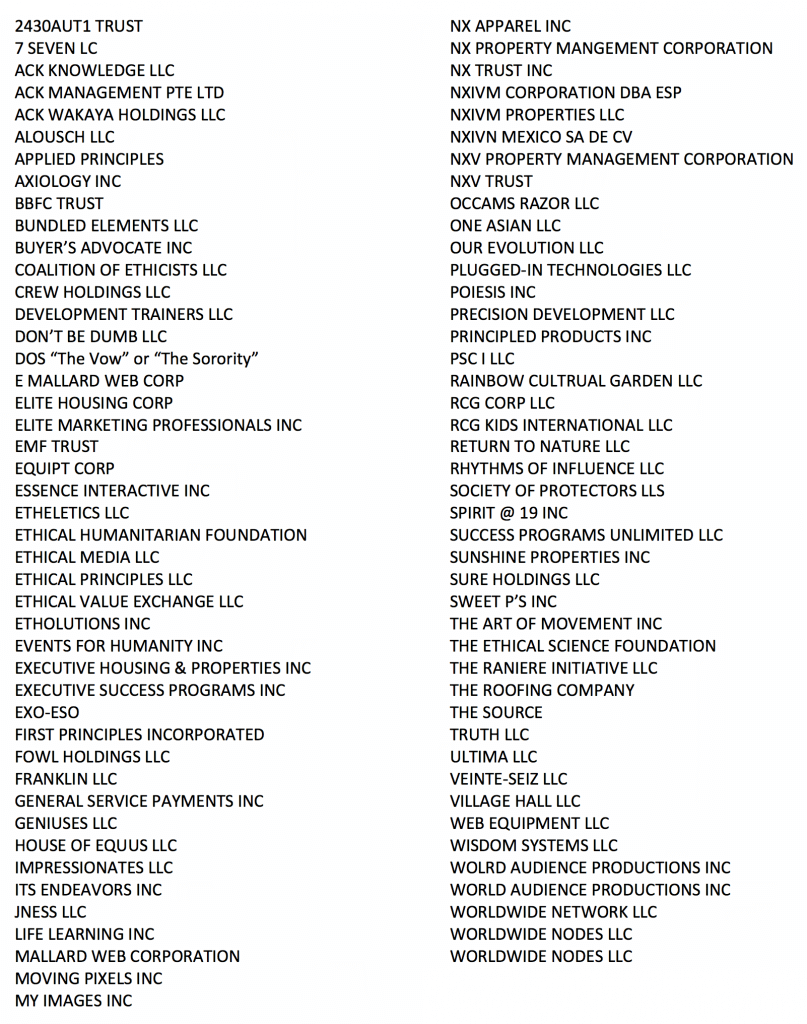 NXIVM WAS A HOLLYWOOD INFLUENCED CHILD SEX SLAVE OPERATION OPERATED BY THE WEALTHY ELITE AND DESIGNED TO HARVEST YOUR CHILDREN.
Mr. Raniere set up a harem of sexual "slaves" who were branded with his initials and kept in line by blackmail.
Mr. Raniere attracted high-profile followers, among them the "Smallville" actress Allison Mack and Clare Bronfman, an heiress to the Seagram liquor fortune, who helped finance its activities.
Notable NXIVM Members
NXIVM was founded by Keith Raniere (born August 26, 1960). In March 2018, Raniere was arrested and indicted on a variety of charges related to DOS (a "secret sisterhood" within NXIVM), including sex trafficking, sex trafficking conspiracy, and conspiracy to commit forced labor. He was found guilty of all charges at trial.
In 1998, Keith Raniere met Nancy Salzman, a psychiatric nurse and trained practitioner of hypnotism and Neuro-Linguistic Programming. The two founded "Executive Success Programs", a personal development company offering a range of techniques aimed at self-improvement. In March 2019, Salzman pleaded guilty to racketeering.
Heiress Sara Bronfman, along with her sister Clare, bankrolled the NXIVM organization beginning in 2003.
Sara Bronfman is the daughter of billionaire Seagrams chairman Edgar Bronfman Sr who was introduced to NXIVM by a family friend in 2002. She, in turn, introduced her sister, Clare Bronfman to NXIVM. Clare Bronfman was arrested by federal agents on July 24, 2018, in New York City and charged with money laundering and identity theft in connection with NXIVM activities. She pleaded not guilty in the United States District Court for the Eastern District of New York in Brooklyn. She was released on a $100 million bond and placed on house arrest with electronic monitoring. On April 19, 2019, Bronfman pleaded guilty to conspiracy to conceal and harbor illegal aliens for financial gain and fraudulent use of identification. She faces 21 to 27 months in prison and has agreed to forfeit $6 million.
Emiliano Salinas is a venture capitalist and businessman. He is the son of former Mexican president Carlos Salinas de Gortari. Salinas served as vice president of Prorsus Capital, a financial consortium with ties to Raniere and Nxivm.
American actress Allison Mack pleaded guilty to racketeering charges in April 2019 and is awaiting sentencing.
Karen A. Unterreiner is a member who became Raniere's live-in partner beginning in the 1980s and an early employee of his company Consumers' Buyline. Pam Cafritz was the daughter of Washington-DC socialites, Buffy, and William Cafritz. In the 90s, she resided with Raniere and Karen Unterreiner in an Albany home. Both Unterreiner and Cafritz signed consent agreements with prosecutors for their role in Consumer's Buyline. Cafritz was a founder of JNESS, the Raniere-affiliated women's group. Cafritz was reported to be Raniere's 'most important long-term girlfriend'. On Nov. 7, 2016, Pam Cafritz died. After her death, her credit card was charged for over $300,000.
Allison Mack is an American actress known for her role in the series Smallville. Mack was reportedly recruited to the Vancouver chapter of NXIVM, along with her Smallville co-star Kristin Kreuk. Mack was reportedly a founder of DOS, a Raniere-affiliated Master/Slave group. Mack was arrested on April 20, 2018, on charges of sex trafficking, sex trafficking conspiracy, and forced labor conspiracy. Mack pleaded guilty to racketeering charges in April 2019 and is currently awaiting sentencing in September 2019.
Nicki Clyne is a Canadian actress known for her role in the series Battlestar Galactica. According to reports, in 2006, Clyne became involved with NXIVM. In 2008, she reportedly requested to be let out of her contract to focus full-time on NXIVM.
India Oxenberg, daughter of actress Catherine Oxenberg, was introduced to the group in 2011. At Raniere's trial, a witness testified that India had spent a year on a 500-calorie-per-day diet. In May 2017, India admitted to her mother that she was among those who had been branded. India left the group in June 2018, after Raniere's arrest. In August 2018, Catherine Oxenberg's book Captive: A Mother's Crusade to Save Her Daughter from a Terrifying Cult was published.
Critical former members
Toni Natalie met Raniere in 1991 when he was pitching his business "Consumer's Buyline". Natalie and her then-husband became top sellers for the organization. Natalie recalled that she was able to stop smoking after a two-hour session with Raniere. Within a year, Natalie and her son had moved to be near Raniere; her marriage ended shortly thereafter. Natalie and Raniere dated for the next eight years. In the mid-90s, Raniere and Natalie operated a health-products store. In 1999, Raniere's eight-year relationship with Natalie ended. Natalie would subsequently claim to have been the victim of harassment. In a January 2003 ruling, federal judge Robert Littlefield implied Raniere was using a legal suit to harass Natalie. Wrote Littlefield: "This matter smacks of a jilted fellow's attempt at revenge or retaliation against his former girlfriend, with many attempts at tripping her up along the way" In 2011, Natalie filed documents in federal court alleging that she had been repeatedly raped by Raniere.
Joseph J. O'Hara was an attorney who departed NXIVM in 2005 after accusing the group of misdeeds. In 2007, O'Hara was indicted by Albany County. It was later revealed that the District Attorney had allowed Raniere's girlfriend Kristin Keefe to operate within its office as a sort of victims' advocate. Charges were ultimately dismissed.
Barbara Bouchey was a client of Nancy Salzman, having been referred to her in 1988. Beginning in 2000, Bouchey dated Raniere. In 2009, Bouchey and eight other women ("The NXIVM Nine") confronted Raniere with concerns about abuse within the organization. That year, Bouchey left the group and later went to law enforcement.
Kristin Keeffe became Raniere's partner in the early 1990s. In 2013, Keefe gave birth to Raniere's son Gaelyn. In February 2014, Keeffe broke with Raniere and his group. Fleeing the region with her son, an email bearing Keeffe's name explained: "I have full sole legal custody of Gaelyn. Keith was experimenting on him. I had to get Gaelyn away". Keeffe publicly described Raniere as "dangerous". In 2015, Keeffe alleged that NXIVM leaders had planned to lure critics to Mexico with an invitation to an anti-cult conference; once in Mexico, the critics were to be arrested on false charges by order of a judge who had been bribed.
Sarah Edmondson is a Canadian actress. After leaving NXIVM in early 2017, she publicly denounced the organization, claiming that she was invited into "DOS," a substructure within NXIVM operated by Keith Raniere and Allison Mack, and was branded with Raniere's and Mack's initials at Mack's Albany home. Edmondson showed the brand in a New York Times expose of NXIVM.
Mark Vicente, a filmmaker known for the 2004 film What the Bleep Do We Know!?, began involvement with the group in 2005. Vicente testified against Raniere at his 2019 trial.
Journalists and bloggers
James Odato is an investigative reporter who wrote for the Albany Times Union. In 2012, Odato reported Raniere's history of pedophilia. In October 2013, Odato was named in a lawsuit filed by NXIVM, along with Vanity Fair's Suzanna Andrews and blogger John J. Tighe; all had written critically of the group. The suit alleged that NXIVM computers had been illegally accessed. Shortly thereafter, Odato was described as being 'on leave' from the Times Union.
In 2007, Frank Parlato was hired by NXIVM to help with publicity. After concluding the members were being defrauded by Raniere, Parlato began blogging about the group on his sites "ArtVoice", "The Niagra Falls Reporter" and "The Frank Report".
John Tighe wrote about NXIVM on a blog. In 2013, NXIVM accused Tighe of illegally accessing NXIVM servers using a former member's login information. Tighe's home was raided by the New York State Police, and his computer was seized. Several months later, State Police announced the discovery of child pornography on Tighe's computer; he was arrested. Facing a possible prison term of 20 years, Tighe pleaded guilty to a single count in exchange for a five-year sentence in federal prison.