---
Accused Pedos
I'd like to state that simply because someone is accused of a crime it does not make it a fact. Pedophilia is a most serious and heinous crime as it attacks the weakest and most vulnerable of our society and often inflicts irreversible pain, suffering, and damage. It is the third rail of crime. One for even which criminals have no tolerance.
The names listed below in the videos and audio recordings are done so by Isaac Kappy. It was Isaacs goal to put an end to the Pedophilia, child sex slavery, abuse, and human trafficking which is so rampant in Hollywood today. In the end, this is most likely the reason for his demise.

Isaac Accuses Seth Green & James Gunn of being Pedophiles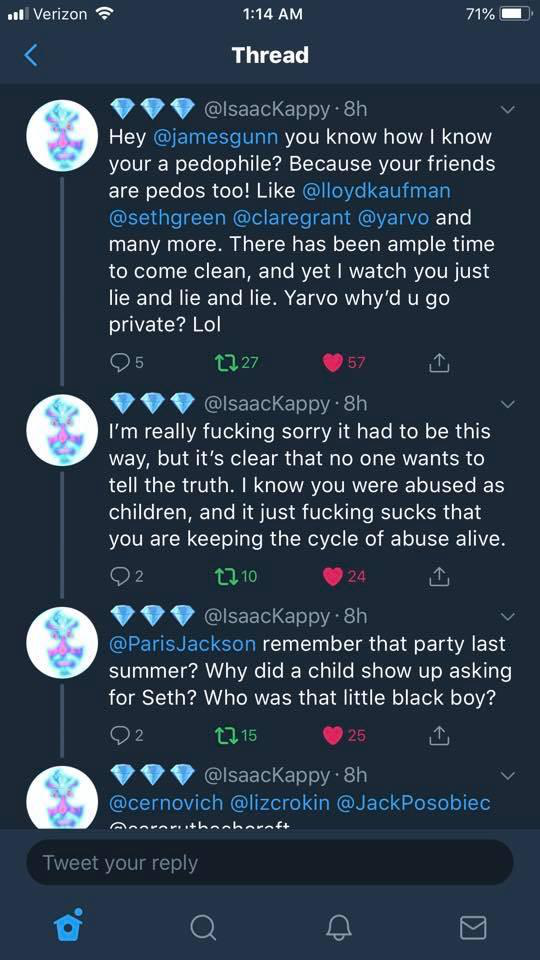 Alex Jones Interviews Isaac Kappy
Tyler Shields
Isaac Kappy Interviewed by Richie Allen Aug 2, 2018
Seth Green & Clair, Yarvo, Matt Cohen, Dan Ferguson, Steven Spielberg, Tom Hanks,
Kappy discusses the "currency of Pedophilia". The black mail that is the underlying reason for pedophilia and the control it brings.
On Lift The Veil with Nathan Stolpman
Important to note. In the above interview at the 10:05 mark, the following exchange took place.
Nathan – "Did you go to the authorities in any way before you decided to come out publicly on Twitter & on Periscope to make the accusations."
Isaac – "Yeah"
Nathan – "You did, and tell us about that."
Isaac – "ahhh, I was, I was leaking to ahh to ahhh the NSA."
Nathan – "You were leaking to the NSA directly, ummm, how did you make contact with the NSA?
Isaac – I did it through the Qanon board.
I will be the first person to point out that Isaac never exactly "went to the authorities" directly. He posted about the alleged pedophile behavior on the Qanon boards. Now, I'm sure the Feds do monitor those boards, in fact, they've even admitted it, however, the fact remains. ISAAC NEVER WENT TO THE AUTHORITIES before coming out with his accusations. Now he did call the FBI at a later date after his interview with David Shurter. There is a rather sad video where Isaac appears to be having a breakdown and begging people to call the FBI.
Brackets and Jackets March 20th, 2019
Brackets and Jackets: Epstein Edition: May 1st, 2019
Isaac Kappy Musical Genius